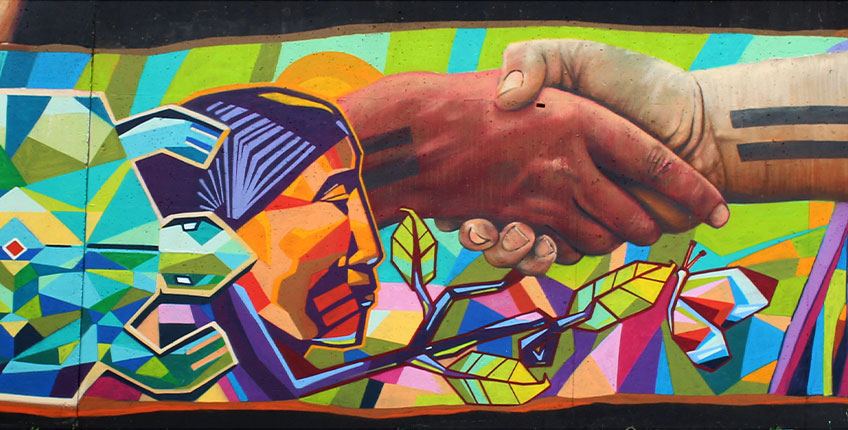 Offered by the Centre for Public Safety and Well-Being - cpsw@wlu.ca

2022 Program Award Winner
Canada's Office of the Correctional Investigator announced in January, 2020 that persons of Indigenous ancestry in federal custody has surpassed 30%, despite only accounting for 4% of the general Canadian population. The Supreme Court of Canada in R. v. Gladue, [1999], S.C.R., acknowledged that the Canadian Criminal Justice System has been (and continues to be) systematically racist in its treatment of Indigenous peoples.
In partnership with Laurier's Office of Indigenous Initiatives, we are proud to offer both credit and non-credit opportunities to learn more about this important aspect of Canada's Criminal Code.
This program is for Indigenous and non-Indigenous people looking to learn more about Gladue Principles.
What is Gladue?
"... a landmark Supreme Court of Canada decision, handed down on 23 April 1999, which advises that lower courts should consider an Indigenous offender's background and make sentencing decisions accordingly, based on section 718.2(e) of the Criminal Code" (Canadian Encyclopedia).
In 1996, s. 718.2(e) was introduced as one way to tackle the over-incarceration of Indigenous peoples. The Supreme Court of Canada enacted this section to address three pressing societal concerns:
The overrepresentation of Indigenous people in Canadian penal facilities
The presence of systemic racism in Canada's justice system; and
How traditional sentencing principles and practices were failing to properly address the needs and realities of Indigenous peoples.
Since that time, it has failed to live up to its ameliorative intent as evidenced by a steady increase in the rate of over-incarceration. This course takes an in depth look at Gladue, past, present and what could be in the future.
Gladue is Not
Gladue is not a 'Get Out of Jail Free card'. The Court in Gladue confirmed that "s. 718.2(e) is not to be taken as a means of automatically reducing the prison sentence of Aboriginal offenders; nor should it be assumed that an offender is receiving a more lenient sentence simply because incarceration is not imposed." The latter suggests that the work that may be required to deal with the root cause(s) of offending behaviour and its impact on the victim(s) and community may prove to be much more difficult than serving time in jail.
Gladue exists to ensure that the judge imposes a sentence that fits the Indigenous offender that stands before the court.
Who can utilize S. 718.2(E) of the Criminal Code?
Section 718.2(e) applies to all self-identifying Indigenous peoples including, Indian (status & non-status), Métis, or Inuit. Indigenous peoples who live off-reserve, were raised in a foster home, or who were adopted by non-Indigenous parents are also eligible.
Alternative Sentencing Procedures and Sanctions
Judges can impose different types of sentencing procedures and sanctions other than imprisonment that may be appropriate in the circumstances for the offender because of their Indigenous heritage. These can include:
Indigenous justice traditions
Culturally appropriate alternatives
Restorative justice options
Community involvement
Counselling programs
Appropriate sentencing range
Minimal term of incarceration where appropriate programming in jail is available
Creation of a release plan where the offender can serve part of their sentence in an Indigenous community or an Indigenous residential facility
Credit and Non-Credit Options
There are two ways to learn about Gladue Principles:
Non-credit courses: Asynchronous, 45 hour certificate, perfect for working professionals.
Credit course: 1.0-credit course (six-credit weight at some universities)
These learning options are designed to educate those who work in the legal, social, Indigenous rights and public safety sectors. We cover historical contexts including generational effects of colonization, Section 718.2(e) of the Criminal Code, case and Indigenous law, Indigenous Persons Court, restorative justice, Gladue in practice and what is needed to increase its success moving forward.
Certificate Requirements:
Part 1 and Part 2
Cancellation and Refund Information
Refunds and withdrawals will be subject to fees based on the following schedule. The administrative fees cover registration, credit card and administration fees.
Up to 15 days before start of the course: Refund less 10% administrative fee.
One to 14 days before start of the course: Refund minus 20% administrative fee.
First day of the course: Once the course has been accessed, no refund.
Extensions are $50. Please contact CPSW@wlu.ca for further information.
Please note:
Part 1 of Gladue Principles and our Uncovering the Truth: Indigenous Peoples in Canada are similar courses. If you have taken Uncovering the Truth, please contact us BEFORE registering for Part 1 of this certificate. CPSW@wlu.ca