0001
-
Situation Table Training
1017611
Course Description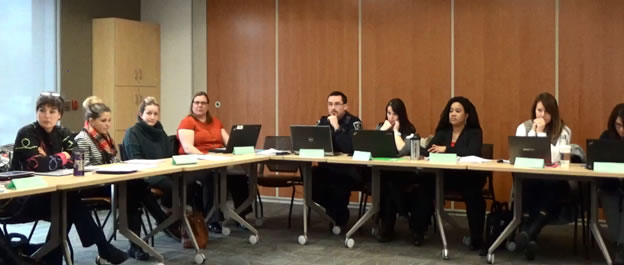 The Centre for Public Safety and Well-Being is proud to present this Situation Table learning package designed for police services and community partners who are considering risk-driven collaborative interventions to increase community safety and well-being.
These training modules, videos, manual and resources were made possible by the generous support of the Ontario Proceeds of Crime grant from the Ministry of Community Safety and Correctional Services, and with the guidance of the Ontario Provincial Police (OPP) Community Safety Services. A warm thank you also to Public Safety Canada for funding the French language translation of this training that is also now available.
What is a Situation Table?
A situation table is a strategic alliance of human services, guided by common principles and processes in order to mitigate risk situations in a timely manner, usually within 24-48 hours. The term "table" highlights that it is a meeting, which convenes regularly, with police and other human service professionals from a variety of organizations. During a Situation Table, participants work together to review situations of acutely elevated risk (AER) and determine if an individual is at imminent risk of harm and victimization and then coordinate interventions to reduce them. By addressing situations of AER, the table works collaboratively to reduce multiple risk factors that increase the likelihood that someone within a community will experience harm and victimization.
The Situation Table involves a four-filter process to determine if situations meet AER threshold, guide decision-making of whether or not to share private and confidential information, and if collaborative intervention is necessary to mitigate risk:
Filter 1: Internal Agency Screening
Filter 2: De-identified Information
Filter 3: Limited Identified information
Filter 4: Planned Intervention
Course Outline
Start date: Continuous.
Delivery: Online.
Language: English and French.
Who: Open (Intended for police services and community service agencies but anyone may participate).
Fee: No charge.
Certificate of completion: Yes.
Languages available: English and French
After gaining access, you will have 30 days to complete the five modules. Each e-module should take you approximately 10 minutes and concludes with a summative quiz consisting of multiple choice, true/false or matching questions. You must successfully complete all five quizzes in order to receive your certificate of completion. The training modules are complemented by a manual as well as interactive videos and resources to support you on your journey.
Training Modules
The modules are designed to guide you through the Situation Table four-filter process if you are considering implementing one in your area. The training modules utilize case studies, activities and quizzes to help you engage with the content and to apply and assess what you have learned.
Videos
Videos are utilized throughout the training modules to support the content that you are learning and to help demonstrate how the Situation Table functions. The videos utilize members from existing Situation Tables to show the Situation Table four filters as well as additional personal perspectives on the Situation Table process and examples of difficult cases.
Manual
The Situation Table Manual was written by Hugh Russell, community justice consultant.
The manual is intended to provide details beyond the training and to be used as a reference guide for situation table attendees as they move ahead with their meetings or encounter different situations. Chapters include:
Overview of Situation Tables
Communication Strategy
Site Selection
Partner Identification and Engagement
Detachment Preparation
Agency Preparation
Standards, Agreements and Protocols
Collaborative Context for Situation Tables
Other Resources
Throughout the modules you will be provided with handy resources and summaries of what you have learned that you can utilize when implementing a Situation Table. Additional resources include:
Internal Agency Screening Questions
Acutely Elevated Risk Threshold
Risk and Protective Factors
Planned Intervention Key Points
Professional Standards
Conclusion Reasons for Situation Table
Learner Outcomes
Upon completion of the learning package, participants should have the skills to:
Demonstrate a broad understanding of the value and use of Situation Tables.
Recognize and identify risk factors and protective factors.
Understand Acutely Elevated Risk (AER) and determine when a situation does or does not meet the threshold.
Recognize privacy legislation, information sharing and limits to confidentiality as it related to Situation Tables.
Develop knowledge of the processes involved in Situation Table intervention planning.
Notes
To gain access to your course, please log into Laurier's Continuing Education website (this website) after you have purchased your course. On the home screen select "Access My Learning Space" on the bottom left hand side. Once inside My Learning Space, please click on the small 9 squares icon to select your course.
Testimonials
"These kinds of initiatives move away from the old one-size-fits-all approach and allow communities to identify their risks, mobilize the proper resources, and proactively and collaboratively make their communities safer."
Yasir Naqvi, Attorney General and previous Minister of Community Safety and Correctional Services
Enroll Now - Select a section to enroll in
Required fields are indicated by .