0011
-
Future Directions in Digital Technology
1018536
Course Description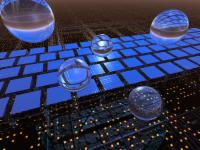 Offered by the Centre for Public Safety and Well-Being - CPSW@wlu.ca
This offering has been approved by the Ontario Ministry of Colleges and Universities as an OSAP eligible micro-credential. To learn more about the process to apply for OSAP micro-credential funding at Laurier, please visit the OSAP for Micro-credential Funding webpage. Email questions to cpsw@wlu.ca.
This course will introduce you to the future growth and directions of digital technology. The future directions of digital technology will be reviewed in the context of prediction and growth, artificial intelligence, machine learning, predictive analytics, augmented reality, virtual reality, and mixed reality, cloud computing and quantum computing, and the impact of such invasive technologies as biomechanics, human implants, and nanotechnologies. This course is designed to provide you with an overview of digital technologies, with an eye towards the probability of implementation and the potential disruptions such technologies may have upon society.
Learner Outcomes
Recognize the historical development and impact of digital technologies from the turn of the century to the present day;
Identify and interpret the scope and context of three (3) select technologies and the respective impact(s) on modern society;
Critically analyze the impact of the growth of data and data storage and why this is relevant to the future of digital technologies; and
Identify and appraise emerging challenges to the development, use, and misuse of future digital technologies.
Notes
Can be taken in combination with the other 7 courses in this program for a Certificate in Digital Literacy and Emerging Technologies.
Applies Towards the Following Certificates
Enroll Now - Select a section to enroll in
Required fields are indicated by .